Webinar Series: Let's get Started with Social Media
Introducing our Social Media Webinar Series
Start your summer with these exciting webinars which will teach you how to get started with Social media. Learn how to start a Facebook Page, learn about targeting your audience with Facebook Adverts. We'll teach you how to Tweet like a Pro using Hootsuite for Twitter and finally we'll show you how to create a plan to manage your social media content.
These webinars are not to be missed!!
Only BDS $60 /USD $30 per person, per webinar!
Save 10% when you book 3 webinars or more
(Just add 3 or more registrations to your shopping cart and the discount will be applied automatically)
Monday 3rd July at 12:30pm – 1:30pm
Facebook has, without doubt, become an important marketing channel for many businesses.  However, it can be confusing to get started with Facebook.  There are a number of ways to set up and use Facebook pages – and how do you get people to follow your page?
Join our webinar to learn to get off to a winning start with your Facebook or – refresh what you have already done.
As a result of this webinar, you will learn:
The difference between a Facebook Personal Profiles and Pages
Selecting a Template appropriate for your Page
Creating a unique username for your page
Different Call to Action Buttons
Completing About and Contact Information
Different types of status updates to share
Using Facebook Pages on Mobile Devices
What are Facebook Apps?
3 Ways To Tell People about Your Page
What to Talk About and How Frequently?
How to measure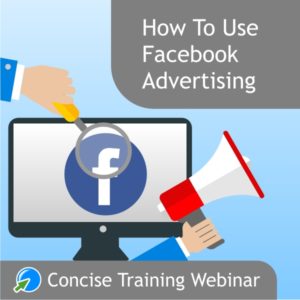 Monday 17th July at 12:30pm – 1:30pm
Facebook advertising offers highly targeted opportunities to put your products or services in front of the right people for your business.  If offers low-cost opportunities to drive traffic to your website or app, offers opportunities to capture leads, can increase views of your video and so much more. Join us for this webinar to explore all the aspects of Facebook advertising.
As a result of this webinar, you will learn:
Different Ad Objectives and when to use them
Targeting an Audience
Creating a custom audience and a lookalike audience
Setting a budget
Different types of ads (video, carousel, slideshow, images)
Creating a message
Using Images
Measuring results

Monday July 31st at 12:30pm – 1:30pm
If you are actively using Twitter, you may find it really hard to see what people are saying – so you can engage – because the feed is changing so rapidly.
We recommend using HootSuite as this enables you to schedule tweets, allows you to easily monitor what people are saying about you and your products / services (keyword) as well as group people you want to engage with into lists so you can see what they are saying.  Join us for a webinar to learn how to use HootSuite efficiently and effectively.
In this webinar you will learn how to:
Set up HootSuite and link up to 3 profiles
Create status updates
Engage with followers (RT, Like, etc)
Schedule updates
Create lists of Twitter users
Search for mentions of keywords
Search for individual profiles
Use HootSuite measurement tools
Decide if the paid version is worth it?

Monday 14th August at 12:30pm – 1:30pm
You may have profiles on a number of social media channels, but you don't know what to say to engage your audience.  Perhaps you find it really difficult to get engagement in the form of likes, comments, shares?
In this webinar, you will learn to identify your audience and what information will appeal to your audience.  You will learn how to plan to create content ahead of time and how to reuse content in multiple ways.  You will also learn how to curate content from different sources to supplement your original content.
In this webinar you will learn:
How to create buyer personas
Identifying content for the personas
Planning content
Reusing content
Curating content
Measuring the impact of content